This Wiki is about the Legend Cards game, the IOS/Android app. You can play it on your Smart Phone, Android Device or Apple products. There are three versions of this game, Facebook, Japanese and the Android/IOS app version. This Wiki is about the Android/IOS.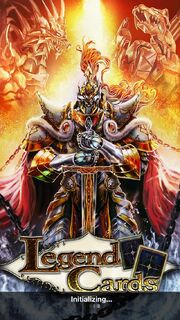 This Wiki was founded by Zerimar1986, on November 2, 2012. 
The purpose of this Wiki, is for you to get the information you need, and contribute, so you can make your card deck more powerful.
Our game code: MDYxNDQ5
Please see Our Home Page for more details.