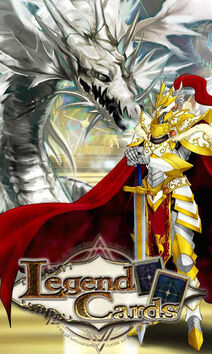 The Ultimate Trading Card game with 1.5 million players. It is one of the 'best' and most 'epic' Battle Card MMO games in the world. There is a Facebook version, and an Android and IOS version of this game. It is mostly played in Japan but widely used in other parts of the world as well.
Legend Cards
Edit
Players collect cards scattered in the world and use them together to make/create stronger cards by fusing and or evolving them. Battle with enemy players to claim ultimate Legendary Cards as proof of your dominance.
Additional Information
Edit
A huge array of over 5,000 hugh quality cards.
Japanese anime styled women 
 Robots with different elaborate designs 
Dragons and other mythical creatures 
Etc...
In addition to normal game modes (Quest, Battle, Fusion, and Draw Card), "Legend Cards" holds  limited time events, such as battle competition, single player questing, or team quest/battle events with new different sets of cards. You have to rank high to earn rare cards and time rewards.
Friend List
Edit
Players can add up to 100 in-game friends. Use the in-game Game Code to invite your friends and earn bonuses for both players.
- Call for help and tackle quests and events together.  - Trade cards with friends and complete card collections faster  - Cooperate with friends and team up against strong boss enemies